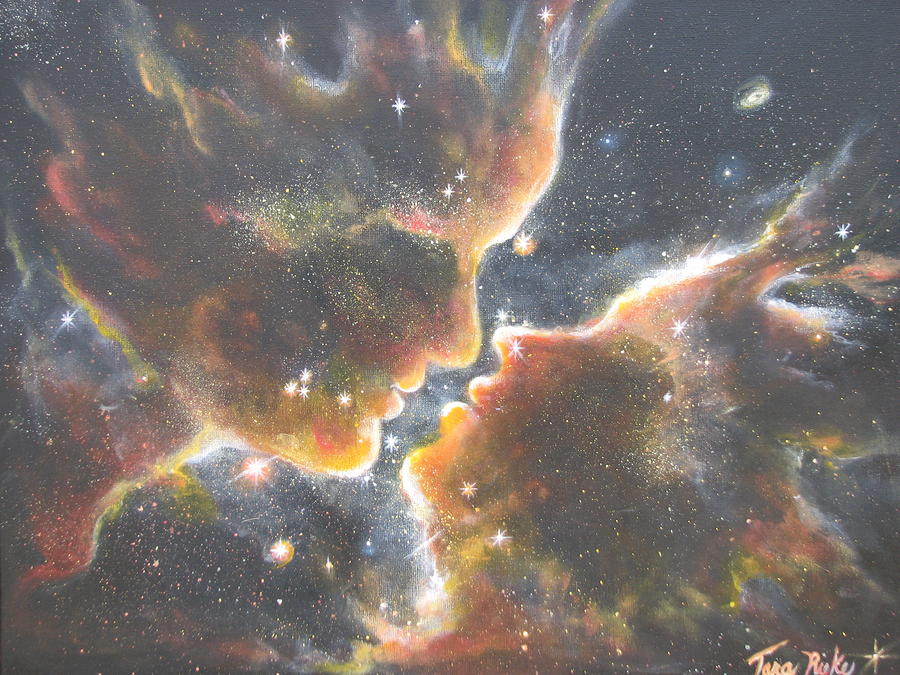 Art by Tara Rieke
Moment stacks upon moment, and fades away. All we have is this. Cherish it.
Wishing you intense presence and love this Friday.
Cosmic Prelude
The grass prickled
my skin,
lying next to you,
gazes star bound
but minds sharply twined
with the other.
I drew balmy breath;
lungs quivered with thanks
like hungry beggar children,
filled with swaying tendrils
doling out nutriment.
Channels of oxygenated blood
surged upward to the brain
triggering the flight of
speeding neurons.
Reaching their destination,
my pinky twitched
and found yours
A jet of air parted
your trembling lips
unbidden.
Science ran its course.
Your remaining fingers caressed mine
like dew drops gliding on petals
of finest flower
Overhead celestial orbs
danced a cosmic prelude
from eons past,
And your hand
pulsed in mine.
By Terence Stone ©2013 
If you enjoyed this article and want to get involved, please subscribe to the blog, like us on facebook, and  follow us on twitter or Google+.
Chief Editor and Founder of Urban Spiritual, I'm a classically trained singer and actor living in New York City, who has performed in the U.S. and Europe. I'm also a writer, traveller, meditator, arts-lover, and well-being enthusiast.