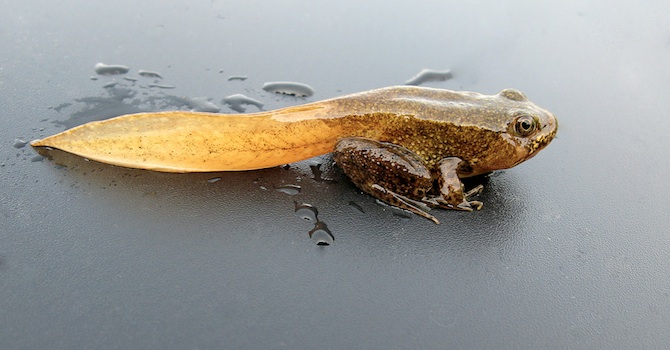 By Terence Stone
Before you jump in…
A few days ago, my sister asked me to write an article about change. She has just entered her first year of college, and while she is having a good time, she's experiencing some internal resistance to and trouble coping with the change from high-school existence to life as an undergrad.
Admittedly, I am also going through a similar change as I've just entered graduate school. I have mixed feelings about it, and I, too, sense some inner-resistance to the change that is taking place.
I've spoken at length about it before. If you're a frequent reader, you'll know that the very personal article I wrote for Tiny Buddha was all about a significant change that needed to happen in my life. So what more to say about it?
We are all changing constantly at such a subtle, and minutely quick rate that it is often impossible to see the change as it's happening, yet we know it is there, and we must embrace it. So today, I look to the wisdom of others as I contemplate this most inevitable of forces. I urge you all to take the time to really think on these quotes. Absorb them with an open heart. 
To my sister, your life will change a thousand times again. When you resist it, you allow fear to change you. When you embrace it, you make the choice to grow.
The List
1. Waking up to who you are requires letting go of who you imagine yourself to be. Alan Watts
2. If you don't create change, change will create you. Unknown
3. Yesterday I was clever, so I wanted to change the World. Today I am Wise, so I am Changing Myself. Rumi
4. When you have to make a choice and don't make it, that is in itself a choice. William James
5. If you correct your mind, the rest of your life will fall into place. Lao Tzu
6. If you do nothing unexpected, nothing unexpected happens. Fay Weldon
7. A bend in the road is not the end of the road…unless you fail to make the turn. Unknown
8. Change is not a process for the impatient. Barbara Rein
9. The future is completely open, and we are writing it moment to moment. Pema Chodron
10. Change is inevitable. Growth is intentional. Glenda Cloud
Wishing you the courage and mindfulness to embrace change a moment at a time.
Photo by Dave Huth
If you enjoyed this article and want to get involved, please subscribe to the blog, like us on facebook, and  follow us on twitter or Google+.
Never miss a post!
Join the Urban Spiritual list for a weekly kōan straight to your inbox.

Chief Editor and Founder of Urban Spiritual, I'm a classically trained singer and actor living in New York City, who has performed in the U.S. and Europe. I'm also a writer, traveller, meditator, arts-lover, and well-being enthusiast.