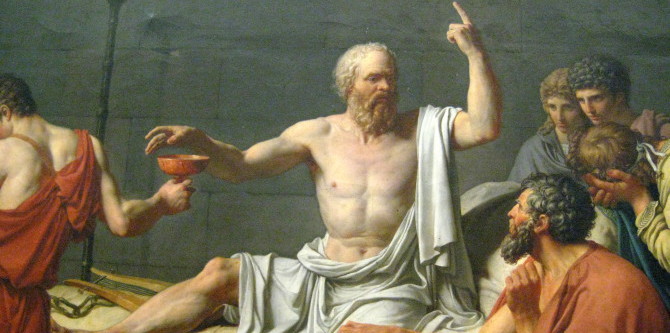 There is only one currency for which all these tokens of ours should be exchanged, and that is wisdom. In fact, it is wisdom that makes possible courage and self-control and integrity or, in a word, true goodness, and the presence or absence of pleasures and fears and other such feelings makes no difference at all, whereas a system of morality which is based on relative emotional values is a mere illusion, a thoroughly vulgar conception which has nothing sound in it and nothing true.

~Socrates
Many scholars have argued that Socrates strove to be a completely logical and pragmatic man who had a general disdain for emotions, and saw no true value in basing one's decisions, and thus life, on such fickle impulses.
That may be true, but he was also human, and my guess is that he also understood that to be human is to feel,  AND that there is difference between those emotions based on little or no reason, and those based firmly in reality.
I believe that this is what the above quote is all about. He cites wisdom as the ultimate goal, which then leads to a skillful way of life, and "true goodness." In short, he sounds like a Buddhist.
In Buddhism, true wisdom can only be gained through insight. And true insight can only be gained through experience. More specifically, the experience of seeing reality as it truly is. Mind you, this is no small task.
Still, the Buddha's teachings are not exactly what I want to talk about though they serve as an appropriate and perhaps necessary (for me) preamble for my main point.
The key statement in the quote is that "a system of morality based upon relative emotional values is a mere illusion." Emotional values as Socrates sees it are those values not rooted in experiential, and therefore rational, experience, or wisdom.
Yet, I do not think what he is saying is that one should live without values. I believe he is challenging us to discover our own values based upon scrutiny of each of our individual realities.
In fact, I was having this conversation with a good friend of mine just the other day, because this concept of values is something I've been mulling over a lot lately. My friend took mild exception with the term "value," only because that word can be so subjective. I agree.
So call it something else, or don't name it. What has become clear to me, is that whether I realize it or not, the decisions I make are firmly rooted in some value or lack thereof.
So, I sat down, and I wrote. I wrote an extensive list of things that are truly important to me in this life. And long story short, I managed to narrow down my three core values.
I won't share them today, or maybe ever on this blog because for anyone else, they will simply be words. And the meaning of those words will vary from reader to reader.
What's important is that it came as quite a surprise to myself that some of the decisions I had been making on a consistent basis, whether small or large, were not in line with some of my values. I found that these actions also tend to be the more unskillful things I do.
I very much believe that one's greatest fulfillment and goodness can only be achieved through clear intentions based in clear values. Of course, it's easier said than done, but it seems that if we commit to those values, the often useless and irrational emotions like instant pleasure or fear begin to dissipate.
Then, the way is clear, and illumination is imminent.
If you enjoyed this article and want to get involved, please subscribe to the blog, like us on facebook, and  follow us on twitter or Google+.
Never miss a post!
Join the Urban Spiritual list for a weekly kōan straight to your inbox.

Chief Editor and Founder of Urban Spiritual, I'm a classically trained singer and actor living in New York City, who has performed in the U.S. and Europe. I'm also a writer, traveller, meditator, arts-lover, and well-being enthusiast.