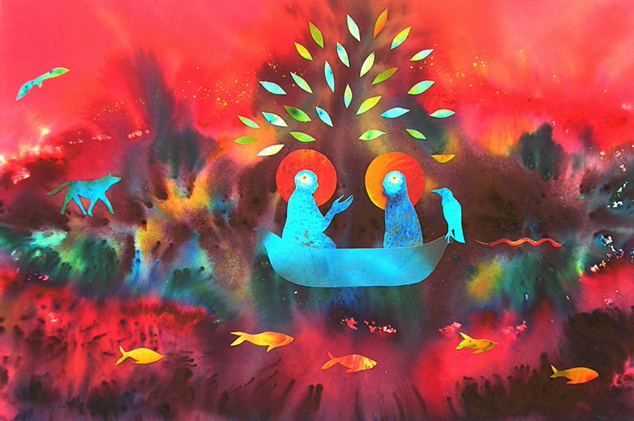 Art by Elizabeth Paxson
I've written about forgiveness once before wherein I took a very obviously Buddhist perspective on the subject. In that article, there is a delightful story of the Buddha's take on forgiveness, which I will briefly recount, though I urge you to take a look at the full anecdote.  
Now, the title is a tad misleading (but compelling, no?). Understand, it is not my aim to put these two wisest of teachers at odds. On the contrary, I seek to make a sound comparison between the two. Whether or not I succeed will be entirely up to you.
If you're a frequent reader, you'll know that I have a very Buddhist/Agnostic view of the universe, but for those of you who do not know me, it may surprise you to learn that I was raised Catholic. And while I'm no longer a strict practitioner, Jesus' teachings are never far from my mind. In fact, I submit that they very much coincide with the Buddha-dharma.
Jesus said, "And when you stand praying, if you hold anything against anyone, forgive him, so that your Father in heaven may forgive you your sins" (Mark 11:25).
Christ implores us to forgive our enemies. He illuminates the notion that to hold anything against anyone is ultimately to hold it against yourself (by barring God's forgiveness). It transforms the act of forgiveness into a very introspective event. We do not forgive one another so that we may rise above one another. We forgive because we realize that we have the capacity to choose. We have the choice to accept. For what is forgiveness, but acceptance?
Furthermore, Jesus stated that the kingdom of God is within each of us. If that is the case, then God resides inside as well. Therefore, when we forgive others, we (or God within) forgive ourselves. I said this in the aforementioned article and I say it again because it is paramount: a refusal to forgive someone else is a refusal to forgive oneself, or to reconcile oneself in the moment. It is an unwillingness to accept what is.
So where does Buddha fit in? Oh, there is no fitting involved. He's already there. At the core, the teaching is the same: Do not resist. Accept. How do we accept in Buddhism? By cultivating the god within through practice (meditation). When we have realized the eternal present, we are fully conscious and in communion with God. Then, we can forgive others, and thereby forgive (accept) ourselves.
For instance, when a man spit in the Buddha's face, he said, "What next?" No anger, no sarcasm; simple presence and curiosity. In fact, the Buddha gently scolded his disciples who wanted to exact revenge. He explained to them that the man who spit was unconscious with anger. He knew not what he did.
So too, when Jesus was dying on the cross he said, "Forgive them, father. They know not what they do." He quells the anger that God (that truest most inner self) might feel about his murder. For him to be angry would have been to fall into the same lack of awareness to which his executors were victims. He realized he did not need to partake of the unconsciousness that surrounded him. He embraced the moment through intense presence, and forgave thereby liberating himself.
Jesus and Buddha were both fully conscious beings. Forgiveness was at the heart of both of their teachings. The context may have been different, but the message is the same. Cultivate awareness, and what follows is compassion, friendship, love, and inevitably forgiveness.
When we are in that state of eternal being, we have already forgiven a thousand times over. We understand that those who would do us wrong have not discovered the joy of being. As such, we must extend lovingkindness, compassion, and forgiveness to them.
May you hold your suffering with tenderness and care.
By Terence Stone
For further reading on forgiveness, take a look at Forgiveness: Finding Peace Through Letting Go
 by Adam Hamilton. It is a simple, practical, and illustrated read that deals with this intense subject in an unassumingly profound way.

If you enjoyed this article and want to get involved, please subscribe to the blog, like us on facebook, and  follow us on twitter or Google+.
Never miss a post!
Join the Urban Spiritual list for a weekly kōan straight to your inbox.

Chief Editor and Founder of Urban Spiritual, I'm a classically trained singer and actor living in New York City, who has performed in the U.S. and Europe. I'm also a writer, traveller, meditator, arts-lover, and well-being enthusiast.